Joseph N. Rubinstein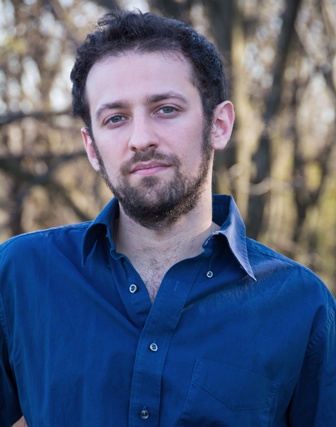 Joseph N. Rubinstein was born in Cleveland, OH, and grew up there and in Newport News, VA. Now based in New York City, his music is largely focused on texted and dramatic genres like opera, art song, and choral music. With an emphasis on emotional directness and vivid storytelling, Joseph's melodically driven and dramatic work is often inspired by American history, explorations of identity, and the natural world. His style is particularly informed by the folk-influenced concert music of the United States, United Kingdom, and Russia, and by minimalism, the sacred choral music tradition, electronica, and musical theater. He has collaborated on new theatrical works and songs with librettists and writers including Mark Campbell, Jason Kim, and Melisa Tien.
Joseph's work has been presented by organizations and individuals including Fort Worth Opera Festival, Seagle Music Festival, The Manhattan School of Music Opera Theater, bass-baritone Davóne Tines, Novi Cantori, Triad: The Boston Choral Collective, American Opera Projects, The Holy Cross Chamber Singers, The Secret Opera, bass-baritone Matthew Burns at the Spoleto Festival USA, North / South Consonance, the Society for New Music, Boston Metro Opera, and C4. He has received commissions from The Young New Yorkers' Chorus, The Urbana Public Arts Council and flutist Kathleen Winters, New Vintage Baroque, and the Cheah-Chan Duo. In 2017, Joseph and librettist Jason Kim received an Opera Genesis Fellowship from the Hermitage Artists Colony and American Opera Projects for developmental work on their opera "House of Legendary." In 2020, the same project received a Repertoire Development Grant from Opera America. Joseph studied at Columbia University (BA) and at The Juilliard School (MM). He further studied with composer Tarik O'Regan, and at the Bowdoin International Music Festival and Yale Summer School of Music at Norfolk.
Select recent and upcoming performances include selections from "House of Legendary" on the AOP "Mixtape" at Joe's Pub in New York City (spring 2022), "the wound is the light is the place is" with the William Baker Chorale in Kansas City (spring 2022), and "Casting Off" in recital in New York City with countertenor Jordan Rutter (fall 2022). He is a proud alumnus of the Pacific Chorale's "Choral Sketches" program (2019), the Composer-Librettist Studio at New Dramatists (2016), and American Opera Projects' "Composers & The Voice" program (2014). He is also active as a tenor in the New York City area, and works with contemporary composers as both a choral singer and as a concert planner and administrator.