Scott Gendel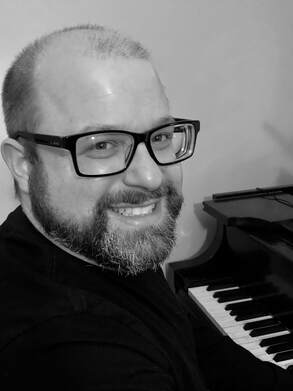 Scott Gendel (b. 1977) is a composer, vocal coach, pianist, theatrical music director, singer, keyboardist, composition instructor, producer, songwriter, and all-around musical generalist living in the Madison, Wisconsin area. As a composer, his music has a wide-ranging scope, but Scott is particularly fond of all things vocal and the artistry of the human voice in all its forms, including opera, art song, choral music, musical theatre, folk song, rock albums, and much more. As a performing musician, Scott collaborates on vocal and instrumental recitals around the country, plays in four different hard-to-categorize rock & electronic bands, and is the official pianist and principal vocal coach for Madison Opera. ​
​Recently, he recorded his piece "At Last" with soprano Camille Zamora and cellist Yo-Yo Ma, as part of "An AIDS Quilt Songbook: Sing For Hope," a recording released on Naxos Records and GPR, benefiting amfAR, the American Foundation for AIDS Research. Scott's song "Advice to Those Like Me, With Hearts Like Kindling" was premiered by soprano Melody Moore in her Carnegie Hall debut recital. Scott's evening-length choral & orchestral oratorio "Barbara Allen," based on the traditional Appalachian folk song, was premiered by the Santa Clara Chorale & San Jose Chamber Orchestra last spring.
In 2005, Scott received his doctoral degree in composition from The University of Wisconsin-Madison, where he also designed and taught an undergraduate composition curriculum as part of the faculty. That same year, Scott was awarded first prize in the ASCAP / Lotte Lehmann Foundation Song Cycle Competition, a juried national award in its inaugural year. More recently Scott was the second prize winner of the 2016 NATS Art Song Composition Award, and winner of the 2017 Ortus International New Music Competition. Scott's music is published by Classical Vocal Reprints, ECS Publishing, and the Tuba/Euphonium Press. His art songs have been recorded on Albany Records, GPR Records, and Naxos.
​In addition to his activities as a collaborative pianist and composer, Scott has worked as a vocal coach for Madison Opera, Atlanta Opera, and more; he sings tenor professionally with the Madison Choral Project; has been Musical Director for theatrical productions at the Barter Theatre, Endstation Theatre Company, and others; and plays keyboards and sings with The Tapestry (an opera-rock fusion band), The Landed Gentry (a Madison rock band co-founded by Scott), The Parlour Trick (a project blending classical and experimental music), and The Furious Bongos (a Frank Zappa tribute ensemble).
​
​Recent commissions include the original opera "Super Storm!" for Opera for the Young's 2018-2019 season, which was performed for nearly 75,000 children in close to 200 schools around the midwest; and "Grandma's Kitchen," a song cycle based on a story originally aired on the radio by StoryCorps, commissioned by Sparks & Wiry Cries.
Scott's heart belongs to music, but also to his two amazing children Lotte and Twyla, and to his unbelievably wonderful wife Megan.